Dossier
Re-inhabiting the building stock: technical policies and design innovations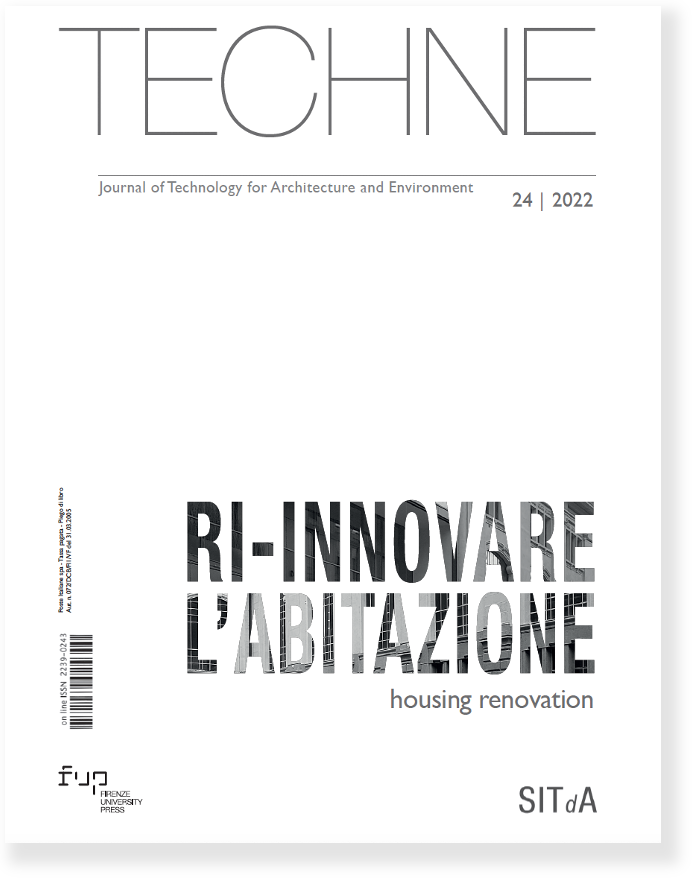 Published 2022-07-26
How to Cite
D'Ambrosio, V. ., & Violano, A. . (2022). Re-inhabiting the building stock: technical policies and design innovations. TECHNE - Journal of Technology for Architecture and Environment, (24), 15–19. https://doi.org/10.36253/techne-13437
Abstract
The focus on the redevelopment of the existing residential buildings through construction and urban
renewal methods is the core of the guidelines for the architectural design according to multiple goals,
converging disciplinary approaches and different operating modes. The operating scenario concerns in the
transformations and expansion of the offer in the construction sector, innovation in technical policies for
housing, design experiments and retrofitting actions with innovative technologies.
Nowadays the deep renovation of the heritage residential building stock is at the centre of European
technical policies - from the New European Bauhaus to the Renovation Wave for Europe - engaged to meet
the green transition goals of an inefficient building stock that requires not only an improvement in
performances, but also a renewed management methodology. The implementation of the programmes
requires an unconventional approach in a rapidly evolving scenario that sees the component of
environmental ethics guiding designs and processes for the pursuit of complex goals and advanced
approaches.
An "ecological intelligence" at all levels is required to respond to these challenges, which rethinks the wide variety of environmental impacts associated with production of building materials, buildings functionality and their related systems, as well as processes which took place within built-up areas, meaningful in terms of rate, scale and evolutionary dynamism.
Downloads
Download data is not yet available.