Aestimum 74 (2019)
Articles
Matera: city of nature, city of culture, city of regeneration. Towards a landscape-based and culture-based urban circular economy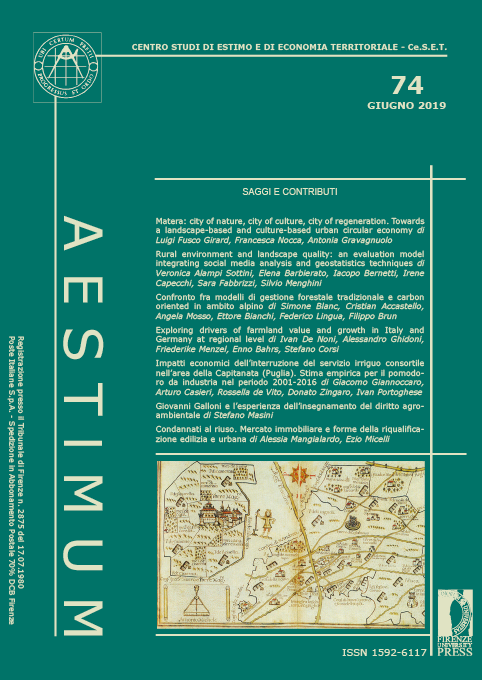 Published
October 31, 2019
Keywords
Matera circular city

,

urban circular economy

,

impact evaluation
How to Cite
Fusco Girard, L., Nocca, F., & Gravagnuolo, A. (2019). Matera: city of nature, city of culture, city of regeneration. Towards a landscape-based and culture-based urban circular economy. Aestimum, (74), 5-42. https://doi.org/10.13128/aestim-7007
Abstract
Each city is a living organism (Geddes, 1915) and it has (like all living organisms) its own dynamics. Cities born, grow, stabilize, become "stagnant", decline, and die. Being as a living system, that is a complex dynamic and adaptive system, they are capable of self-organization/self-management.
There are many causes of the decline of cities today (population aging, poverty, unemployment, lack of attractive capacity, etc.). Each of these causes interdepends on the others in continuous retroactive processes.
The general proposal of this paper refers to a key word: "regeneration" as a revitalization of the activities in the perspective of the circular economy/city. The aim is to explore, in particular, how an urban circular economy can be implemented through a cultural landscape-based approach, analysing the case study of Matera (Italy) awarded as European Capital of Culture (ECoC) 2019, and assuming interdependence/relationship between a specific landscape and the circular economy/city models: these models reshape the profile of the landscape. The aim is to understand how to transform a millennial experience of underdevelopment into a dynamic development perspective, what can be the modernization proposal of the city of Matera and its historic urban landscape in the light of its millenary circular organization.