Vol. 19 No. 1 (2021): Landscape design & COVID-19. Progettare per la natura
La forma della città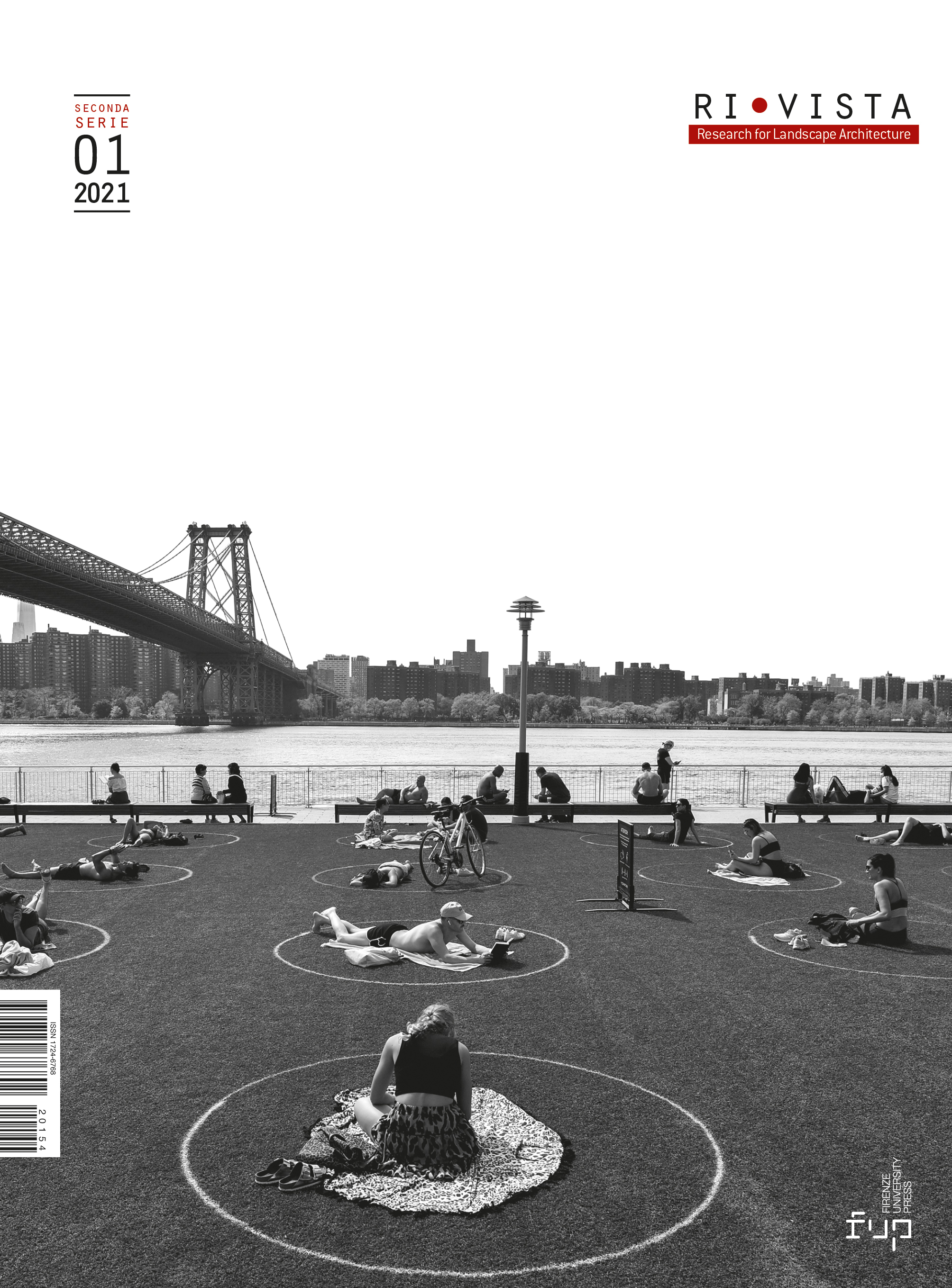 Keywords
Utopia, realtà, riforestazione urbana, cambiamento climatico, città
How to Cite
burlando, patrizia, & Grillo, S. (2021). Utopia vs Realtà. Ri-Vista. Research for Landscape Architecture, 19(1), 172-181. https://doi.org/10.36253/rv-10291
Copyright (c) 2021 patrizia burlando, Sara Grillo
This work is licensed under a Creative Commons Attribution 4.0 International License.
Abstract
Se la realtà ci impone di ripensare città come super-organismi con minori impatti per una crescita economica attuale, efficiente sotto il profilo delle risorse e competitiva, senza emissioni negative (Paris Agreement, Green Deal), dall'altra è chiaro il bisogno di utopia per immaginare dei futuri alternativi, traendo spunto dalle epoche in cui gli ideali hanno avuto il potenziale di influenzare l'attività di progettisti e di pianificatori. In qualunque modo l'utilizzo di un verde più resiliente è diventato l'elemento cardine nei processi di trasformazione urbana. Non a caso anche architetti di fama mondiale come Boeri Associati, MVRDV, AMO/Koolhaas e BIG- Bjarke Ingels Group hanno improntato la loro ricerca sulla green tech al fine di utilizzarla nell'ambito di interventi architettura. Nella soluzione di diversi problemi ambientali: dal cambiamento climatico, alla emergenza COVID-19, dunque, l'utilizzo di un insieme di soluzioni verdi, resilienti e a diverse scale spaziali da quella della città, a quella di quartiere, di isolato e del singolo edificio è diventata una necessità.
L'obiettivo di questo lavoro è presentare evidenziandone pregi e criticità alcuni progetti verdi, sia visionari, sia in fase di realizzazione, che si basano sui concetti chiave di sostenibilità, multifunzionalità, aumento dei servizi ecosistemici e multiscalarità. Se la utopia della Riforestazione Urbana di Stefano Boeri diventa realtà, invece la ricerca The Green Dip condotta dal The Why Factory Workshop rappresenta al momento solo uno studio, un manifesto per restituire vivibilità alle città contemporanee.