ISSN 1824-7601 (online)
Studi Slavistici is the Open Access journal of the Italian Association of Slavists (A.I.S.). It publishes academic articles, research and book reviews and informative essays. Its main aim is to foster specialized Slavic research and to make quality information available to a broader public of readers and Internet users. The journal also acts as a bridge between the academic tradition of Italian and European Slavic studies and the latest cultural trends in various Slavic subjects. Special attention is devoted to the literature, languages, culture and various art forms of all Slavic countries, but also to interdisciplinary approaches in methodology, inter-Slavic and Slavic-European literary, linguistic and cultural relationships. <
Editor-in-Chief
Nicoletta Marcialis, Università di Roma "Tor Vergata", Italy
Studi Slavistici is indexed in:







---
Studi Slavistici and COVID-19
Community Message:
Dear Colleagues and Friends,

The global COVID-19 (corona virus) pandemic is deeply changing our daily lives and our understanding of the world. The editorial board and the publisher of «Studi Slavistici» express their solidarity with anyone who may be affected by the virus. Our deepest gratitude goes to all the health care workers — doctors, nurses, technicians, medical staff, administrators – taking care of those affected by the pandemic and to the researchers working under challenging conditions to bring this outbreak to a close. As the global research community is affected by this pandemic, we wanted to update you on how we are dealing with the situation at Studi Slavistici and to provide the following clarifications to our authors, reviewers, and readers:

For our authors: If you have a paper in process at Studi Slavistici, it is being processed as normal. However, we are flexible regarding turnaround times for revisions during this stressful time. Please keep in touch with us if you need any extensions.

For our reviewers: If you have agreed to do a review for Studi Slavistici but need extra time, please just let us know. In light of the now-limited resources for bibliographical research due to closed libraries and archives, we encourage you to carefully consider the need for additional bibliographical data in revision requests.

For our readers: Thank you for the constant attention you draw to our journal. Please note that all our contents remain openly available.

To all of you: we are conscious of the challenges that many of you are facing during this crisis. We hope that effective solutions will soon be found to slow the pandemic spread and that the return to normal life will not have a dramatic impact on our lives and societies.
We believe that mutual support and cooperation are the only ways of coping with the challenges of these uncertain times.
---
Current Issue
Studi Slavistici XVII (2020) 1
Issue Description
Editor-in-Chief : Nicoletta Marcialis
Editorial Board : Alberto Alberti, Alessandro Amenta, Maria Grazia Bartolini, Raffaele Caldarelli, Maurizia Calusio, Paola Cotta Ramusino, Lucyna Gebert, Giuseppina Larocca, Maria Rita Leto, Barbara Lomagistro, Gabriele Mazzitelli, Donatella Possamai, Laura Rossi, Giovanna Siedina, Bianca Sulpasso
Managing Editor : Giuseppina Larocca
Layout Editor : Alberto Alberti
Copyeditor : Alberto Alberti, Chiara Benetollo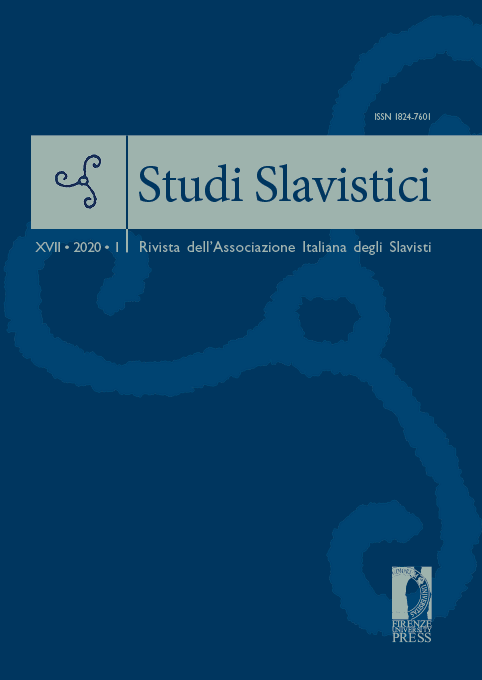 ##issue.tableOfContents##
##issue.tableOfContents##
View All Issues